I have to admit I was a little skeptical of the Force of Nature non-toxic cleaning system when I first heard about it. I am all for natural cleaning products and reducing the use of toxic chemicals in our home, but I had my doubts that Force of Nature would be an effective cleaning solution.
My curiosity was piqued and I decided to give this cleaner a try.
And I am SO glad I did!
We've been using the Force of Nature cleaner in our home for the past several months now, and I am completely sold.
We are a homeschool family with 4 kids, and needless to say, things get messy around here. Really messy.
This cleaner has held up to all of our kids' crazy messes and there hasn't been a surface that it wasn't able to quickly and easily clean. I love using it to wipe off markers and paints from our homeschool table and to clean our homeschool dry erase board.
I use it daily in our kitchen to wipe down our countertops and clean our cutting boards. I use it to clean and disinfect our toilets and spray it on our shower curtains, too.
I clean all our mirrors, windows, and sinks with our Force of Nature spray as well.
My favorite use of this cleaner is to spray down the rubber gasket in our front-loading washing machine. It can get kind of icky in there, but Force of Nature cleans it up beautifully and leaves it smelling fresh. I even dump some into the drum of our washing machine and run a cycle to give it a nice deodorizing clean.
There's nothing in our house that this cleaner can't handle, and I'm super excited to share with you my full Force of Nature review!
What is Force of Nature?
Force of Nature is an appliance that uses a small, pre-measured capsule containing vinegar, salt, and water combined with electricity to form electrolyzed water.
This creates a safe, effective multipurpose cleaner that has the power of bleach but is natural and gentle.
The reason for pre-measured capsules is due to chemistry. The pH of the electrolyzed water needs to be exactly right in order to create the proper concentration of solution.
This non-toxic cleaner has the ability to replace all other cleaning solutions in your home.
Really!
I've ditched my window cleaners, toilet bowl cleaners, multipurpose cleaners, and deodorizers and now exclusively use Force of Nature in our home.
Watch this quick video for a great explanation of how the Force of Nature non-toxic cleaner works:
The technology behind Force of Nature is not anything new. It's been used for years in the industrial space as extremely effective disinfecting green cleaners. It's also been used in wound care, eye care, and veterinary care products.
Up until recently, this technology has not been available for household use because it required expensive industrial-size equipment. Force of Nature is the first company that has been able to scale down this technology into a form that's small enough for your countertop and affordable for families.
How to Use Force of Nature
Force of Nature is incredibly easy to use. So easy, in fact, that my kids often help make a bottle of cleaner! Here's my youngest helping me make a new batch:
Simply fill the electrolyzer bottle with tap water, squeeze in a capsule, and press the button on the base of the unit.
The electrolyzing process will begin, and in just a few minutes, the solution will be ready. At this point, you pour the electrolyzed cleaning solution into your spray bottle and your cleaner is now ready to use!
This new batch of solution will last for 14 days, at which point your cleaner will no longer be effective and a new batch will need to be made. This isn't an issue at all in our home, as we easily use up a bottle a week with our big family messes!
The great news is that the Force of Nature base unit will tell you when it's time to make a new batch of cleaner, so you never need to worry about keeping track yourself.
Benefits of Using Force of Nature
Cleaning Effectiveness
When the Force of Nature pre-measured capsule is added to water and converted to electrolyzed water, the chemical composition changes into two new ingredients: hypochlorous acid and sodium hydroxide.
Hypochlorous acid (HOCl) is a type of chlorine that is antimicrobial and has the same cleaning power of bleach. Additionally, hypochlorous acid is actually the same germ-killing substance your white blood cells make for a healthy immune system. When most people think of chlorine, they're thinking of only one certain kind: bleach (or sodium hypochlorite). But hypochlorous acid is another type of chlorine that is both non-toxic and gentle.
Sodium hydroxide (NaOH) is a naturally occurring substance that's commonly used to make soap and to purify drinking water. It's also found in most toothpaste, skincare, and household cleaners. Force of Nature contains only 0.0000003%, and yet it cleans and disinfects just as effectively as bleach.
Non-Toxic (Safe for Kids + Pets!)
Despite it being as strong as bleach, Force of Nature is gentle, non-toxic, safe for kids and pets, and doesn't require rinsing. In fact, we even use it to clean our fruits and vegetables before eating them!
I am very naturally-minded and very selective about the cleaning products we use in our home. Force of Nature has been such a blessing to our family because I finally have an effective cleaning solution that is both natural AND powerful. I am confident that our home is the cleanest its ever been without having to use harsh, toxic chemicals.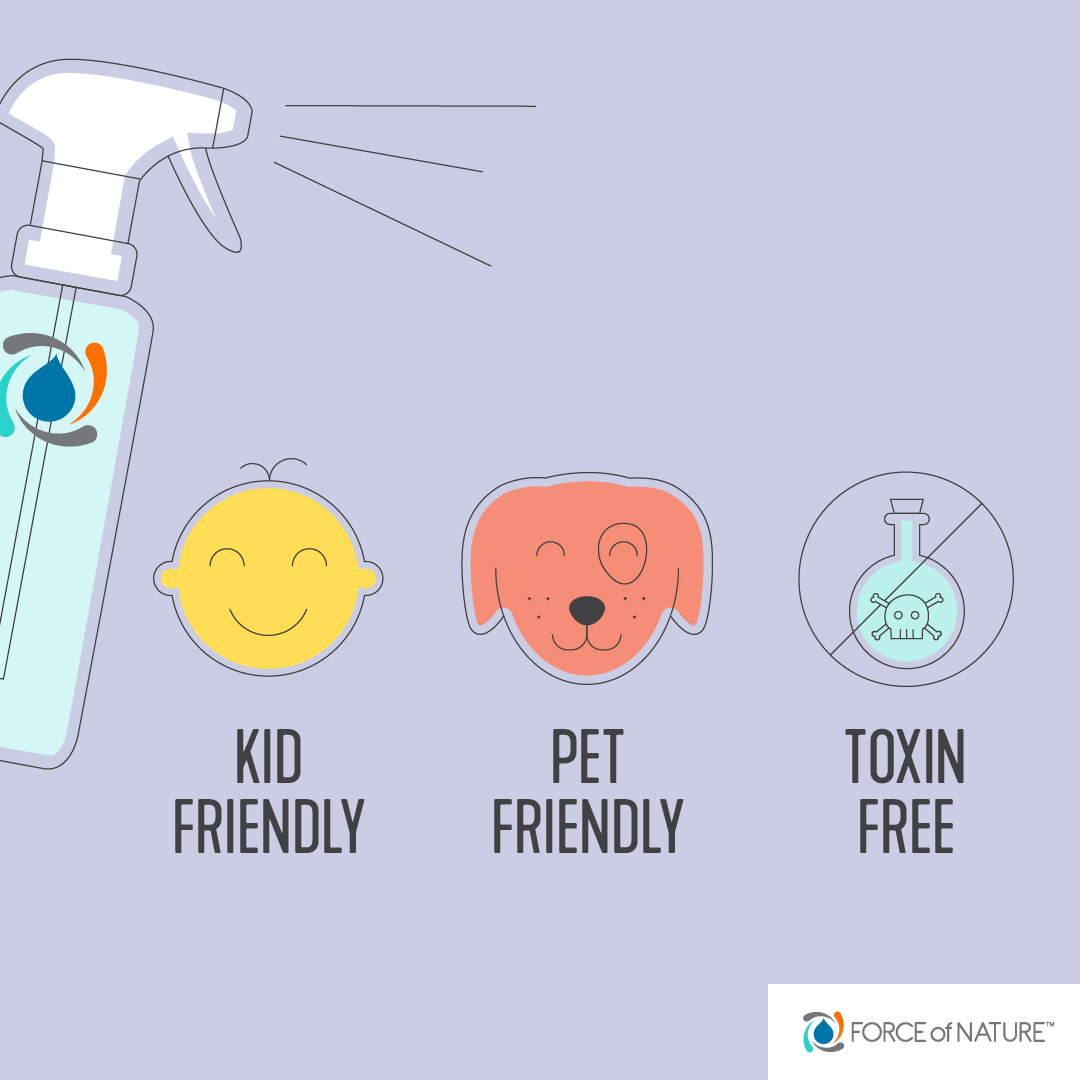 Cost Savings
As I mentioned above, we have eliminated all other spray cleaners in our home, and now use Force of Nature exclusively. We've found that switching to Force of Nature from the other products we used to use in our home has definitely saved us money.
Here is a breakdown of the cost of using Force of Nature versus other spray cleaners: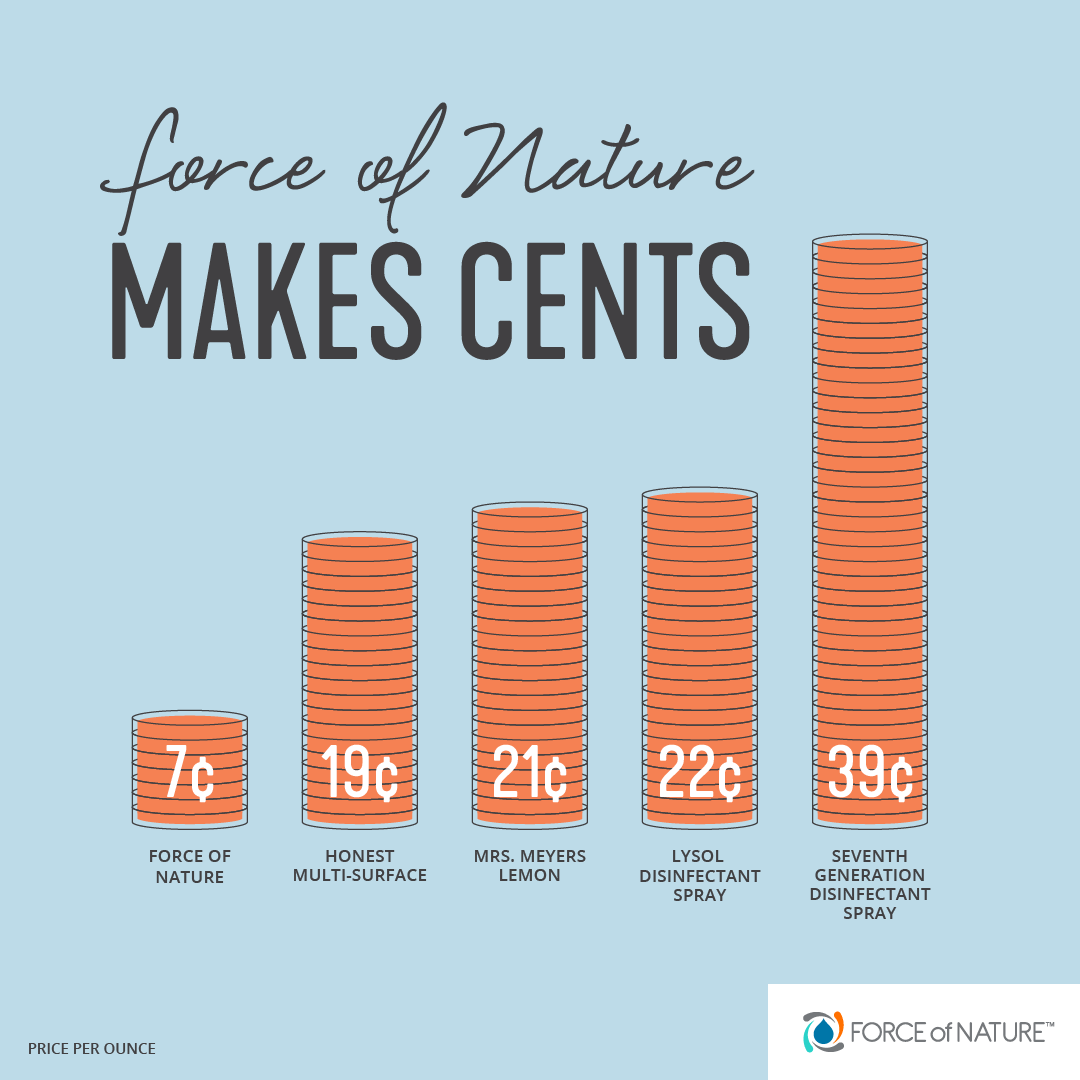 Unscented
Force of Nature contains zero fragrances, which is great for those who are sensitive to strong smells. The cleaner does have a very faint, naturally-occurring scent similar to that of bleach. It's a soft, clean scent that is pleasant yet barely detectable.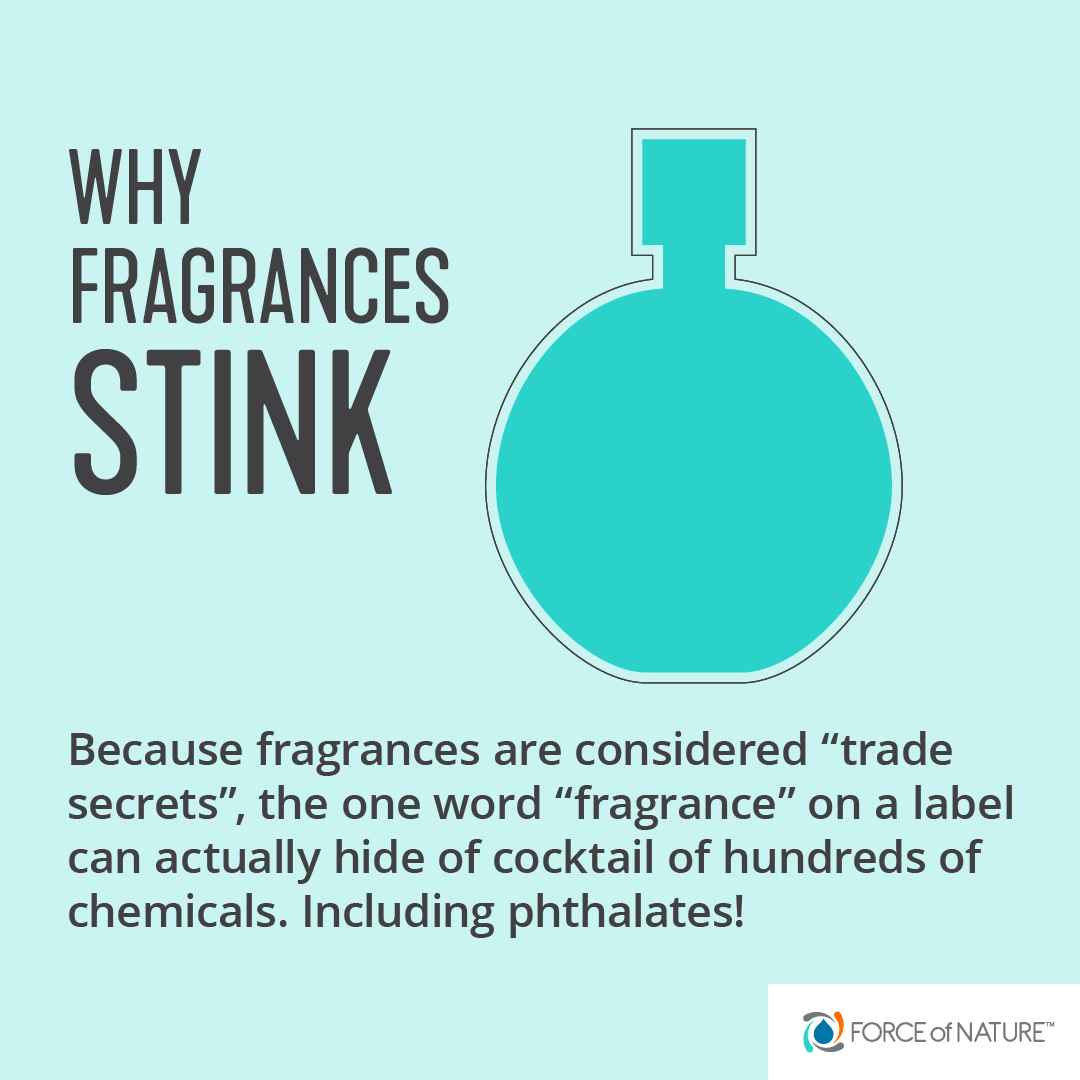 Cleaning Your Home with Force of Nature
Since Force of Nature is both powerful and gentle at the same time, you can use it on so many different things:
Glass + Stainless Steel
Windows
Mirrors
Stainless steel appliances
Kitchens
Countertops (all types — even granite, marble, and quartz!)
Stovetops
Cutting boards
Sink basins
Faucets
Garbage cans (great for deodorizing!)
Dishwashers
Bathrooms
Sink countertops
Faucets
Bathtubs + Showers
Toilets
Toothbrushes
Bedrooms
Humidifiers
Essential Oil Diffusers
Mattresses
Furniture
Floors
Porcelain
Ceramic
Sealed Stone
Vinyl
Laminate
Wood
Baby Gear
Highchairs
Toys
Pacifiers
Diaper pails
Strollers
Car seats
Kids Dishware
Sippy cups
Thermoses
Utensils
Straws
Gym Gear
Yoga mats
Gym bags
Water bottles
Sneakers
Additional Ways to Use Force of Nature
Force of Nature can also be used to clean:
Fruits + vegetables
Pet accidents
Front-loading washing machines
Colorfast fabrics (such as rugs, furniture, or clothing)
Bonus Tip: Add a few ounces of Force of Nature solution to the water in your vase and your fresh-cut flowers will last longer!
NEW Model Now Available!
Force of Nature recently released their Generation 2 model, and I have to say that it's even better than the first!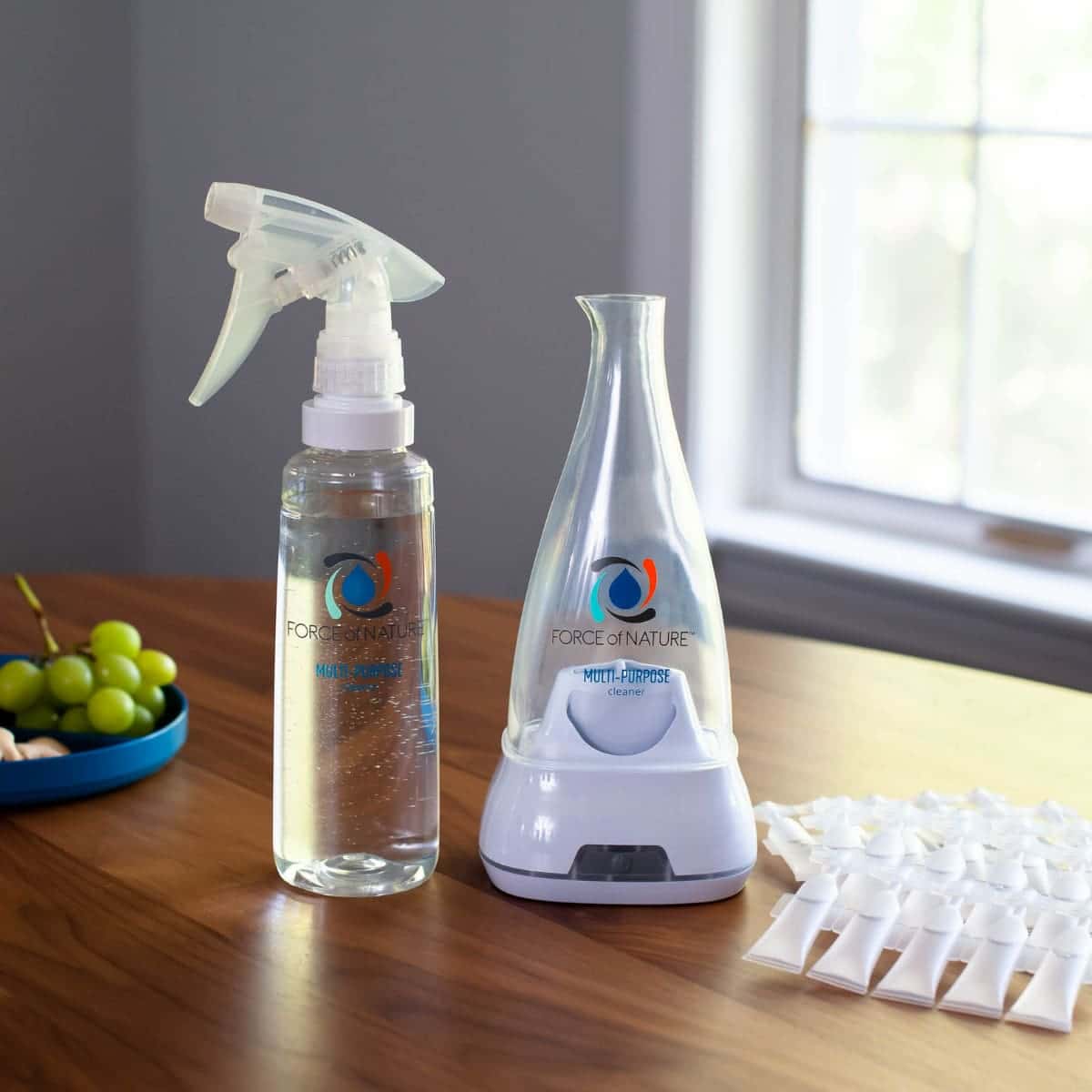 Our family purchased the Generation 1 model several months ago and had been super impressed with the product. The company graciously sent us a free Generation 2 model in exchange for an honest Force of Nature review on my blog. Huge thanks to Force of Nature for sending us the new model!
I knew how much my family and I loved the original model and couldn't wait to give the new model a try.
Differences Between Generation 1 and Generation 2 Models
The first thing I noticed with the new Generation 2 model is the size and shape of the electrolyzer bottle. Force of Nature made the smart decision to cut way back on the amount of material used and created the new model in a simplified, space-saving design.
There is no longer a cap on the top of the electrolyzer bottle, which is great because it allows the bottle to air dry easier between refills.
I also love that the top of the bottle has a convenient pour spout, which makes refilling the spray bottle so easy.
Another significant change to the Generation 2 model is the timer method.
The Generation 1 model has a digital number countdown telling you how many days you have left before your current solution is no longer effective.
The new Generation 2 model has done away with the numerical countdown and has replaced it with a fun color-coding system.
The unit glows blue while the cleaning solution is being made and turns green when the solution is ready. When your current batch of cleaner has only two days remaining, the unit will glow yellow. And when the unit glows red, that means the current cleaning solution has expired and it's time to make a new batch of cleaner.
I absolutely love this new feature because it's so much easier to glance at the unit from across the room to quickly and easily see the status of your current batch of cleaner. It's also easy and fun for children to watch the colors change and alert mom and dad when it's time to create a fresh batch!
Aside from the sleek new look (which looks so much nicer on my counter!) and the advanced color light system, the electrolyzing technology stays the same in the new Force of Nature Generation 2 model. You still fill your electrolyzer bottle with water, add a capsule, and press the button to begin the electrolyzing process.
Get your Force of Nature kit today!
Simply add a Force of Nature Starter Kit to your shopping cart and you'll be on your way to a cleaner home without any toxic chemicals harming your family.
Each starter kit comes with:
Electrolyzer base
Charging cable
12-oz spray bottle
Quick Start guide
User manual
5 starter capsules
Since each starter kit gives you 5 starter capsules, you'll have enough cleaner to make 5 bottles that last for two weeks each (that's 10 full weeks — or over TWO MONTHS — of cleaning solution!).
Shipping is also free on every order!
And for your peace of mind, Force of Nature offers a 100% Happiness Guarantee. You can send the unit back within 30 days if you don't absolutely love it (but I know that you will!). You've got nothing to lose by giving it a try!
Bonus Tip: Add a 3-pack of travel-size bottles to your cart, and take Force of Nature with you everywhere you go! I love putting a small bottle in my purse to use as hand sanitizer for me and my kids, and I also love spraying it on shopping cart handles at the grocery store!
Still have questions?
If, after reading this Force of Nature review, you're still on the fence or have questions about the product, then check out this comprehensive FAQ page here.
Thanks for reading my Force of Nature review! I hope this post has helped you!
*This is a sponsored post. After buying the Generation 1 model with my own money and using it for several months, I was sent a new Generation 2 model for free in exchange for my honest Force of Nature review. All opinions of this product are my own, and I only endorse products that I love and wholeheartedly recommend.